scaramouche
11

March 3rd, 2006 + 1:03 PM
·

scaramouche
reeeeeli cheesy 80s song. Made when I felt like mucking about on electric pianos.....
Much of the piano is improvised which explains the awful ending....
but yeh.
5

January 28th, 2006 + 10:01 AM
·

scaramouche
Junk, jazz-funk. Song I wrote with my firend Tom (on guitar)
11

January 8th, 2006 + 7:01 AM
·

scaramouche
What can you do to vocals to make them sound better? I normally add a bit of reverb and compression but it doesn't sound anywhere near as good as many of the songs on hear. What can I do?
8

January 7th, 2006 + 7:01 AM
·

scaramouche
Ok I have now properly recorded Holding on to Hope with drums and bass and a real piano this time
. Hopefully my singing has 'more balls' as well.
16

December 3rd, 2005 + 11:12 AM
·

scaramouche
This is a song i wrote for a concert at school - It sounds a lot better live, I don't have the time or equipment to record it particularly well at the moment. Still, I'd like to know what you guys think
Alias:
scaramouche

Status: Offline
Threads:
8
Posts:
29
Songs:
6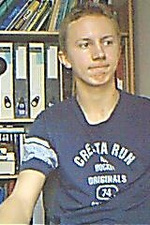 Joined: May 31st, 2005
Last login: November 06th, 2006
My Messengers
| | |
| --- | --- |
| AIM: | n/a |
| ICQ: | n/a |
| Skype: | n/a |